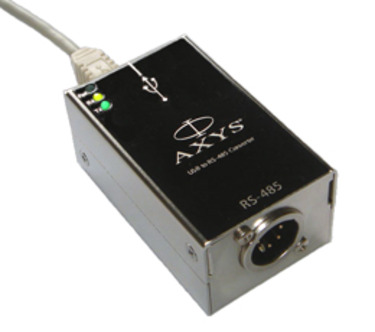 Larger Images
USB to RS485 converter
Order code: 387802
Documentation
Downloads
Support/FAQs
USB to RS485 converter FAQs
Where can I download a copy of the latest version of the device drivers required for the device?
The Virtual COM Port Drivers required by the device can be downloaded directly from the Future Technology Devices International Ltd website.
What are the connection details for the converter?
RS-485 connection table for use with USB to RS-485 adapter:
Slave (Unit)

5p cage clamp

(WAGO) Intellivox

5p XLR

5p

Phoenix

RS-485 A (+ receive)

1

5

5

RS-485 B (- receive)

2

4

4

RS-485 Z (- send)

3

3

3

RS-485 Y (+ send)

4

2

2

DGND

5

1

1
Note that the device interface is a full-duplex (i.e. separate transmit and receive pairs) serial interface.
USB to RS485 converter
USB to RS485 converter
---